The Link King was created by Dr. Kevin Campbell and Camelot Consulting. Materials are hosted here with permission. The Link King is no longer updated and the original Link King site (the-link-king.com) is offline (though still accessable through the Internet Archive Wayback Machine.)
Although this project is no longer maintained, we are not aware of software that matches The Link King on all these features:
good performance
easily integrated into public health analysts' workflows
useable GUI
free (for SAS users)
Because the Link King still fills a unique niche, we archived the materials here (with permission from the author).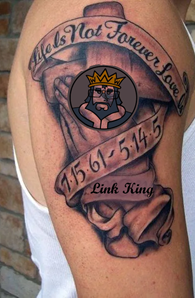 Life is not forever.
Link King is.